Scheduling EasyMorph projects
EasyMorph Scheduler
EasyMorph Scheduler is a free standalone application that sits in the system tray and runs EasyMorph projects on schedule. It uses existing EasyMorph executabe (morph.exe) to run projects in the command line mode. Therefore the scheduler requries either Professional edition or Plus edition with enabled command-line mode. The free edition is not supported.

Features include:
Schedules: Once / Hourly / Daily / Weekly
Project parameter definitions
One-click access to project logs for easy failure diagnostics
Minimization to the system tray
Tray notifications about failed projects
One-click installation without administrator privileges
Scheduled PDF report generation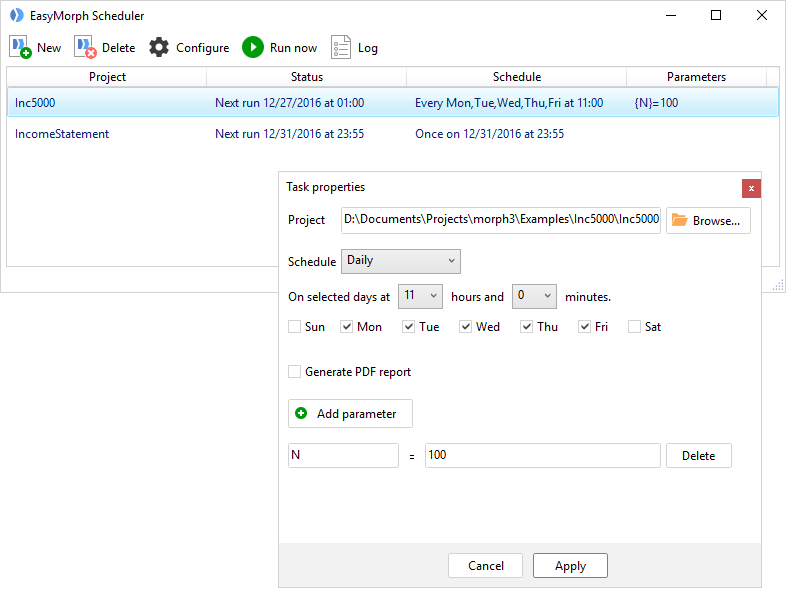 The scheduler should be installed under the same user account that was used for EasyMorph installation. The location of morph.exe is detected automatically.
Note that the scheduler doesn't support cancellation. The only way to terminate project execution prematurely is to kill the according morph.exe process using the Windows Task Manager. Task cancellation is possible only in EasyMorph Server.
EasyMorph Server
See EasyMorph Server.
3rd party utilities
Any 3rd party task scheduler (requires Professional edition or Plus edition with the Command Line Mode option). For instance Windows Task Scheduler.
This is the end of the tutorial. Here is what you can do next: