Scheduling EasyMorph projects
There are two options for running EasyMorph projects on a schedule:
EasyMorph Launcher (intended for individual use)
EasyMorph Server (intended for scheduling project execution in unattended mode)
EasyMorph Launcher
EasyMorph Launcher is a complementary application that is included with EasyMorph Desktop. It is installed automatically when the Desktop is installed, starts on Windows start, and resides in the system tray. When EasyMorph projects are executed in the Launcher, they use the same in-memory engine, connector repository, and license key as the Desktop.
The Launcher operates with tasks that run EasyMorph projects either on a schedule, or on demand. Every task can be configured individually, thus allowing running a project with different parameters, with a single mouse click. The Launcher is intended to automate frequent routine operations and reduce manual work. Note that in the free edition scheduling is not available, but the Launcher can still be used to run projects manually.
Features include:
Schedules: Once / Hourly / Continuous / Daily / Weekly
Parameter assignment (either pre-configured or prompted on task start)
Display of a result table, saving the result table into a supported file format
Real-time messages from the "Status" action (shown in the output pane)
Tray notifications about failed tasks (only when minimized)
Tray notifications from the "Status" action
Task tags, filtering by tags
Actionable error messages as in EasyMorph Desktop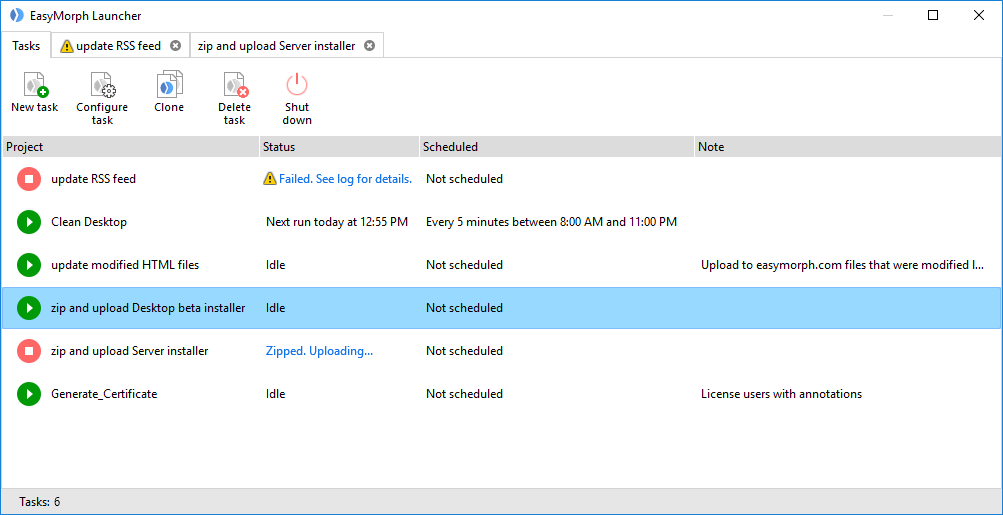 EasyMorph Server
The Server runs projects on schedule in unattended mode. Unlike the Launcher, it works as a standalone Windows service and doesn't require a user to be always logged in. The Server has all the available schedules of the Launcher plus the Monthly schedule. Also, Server tasks can be triggered programmatically using the Server's REST API.
Here is a feature comparison of Launcher vs Server.
| | | |
| --- | --- | --- |
| Runs as | Windows application | Windows service |
| Requires a user always logged in | Yes | No |
| Intended use | Individual | Collective / Dedicated |
| Task scheduling | | |
| Logging | | |
| Multiple Windows accounts | | |
| Email notifications | | |
| Web file manager | | |
| REST API and .NET SDK | | |
| | Learn more | Learn more |