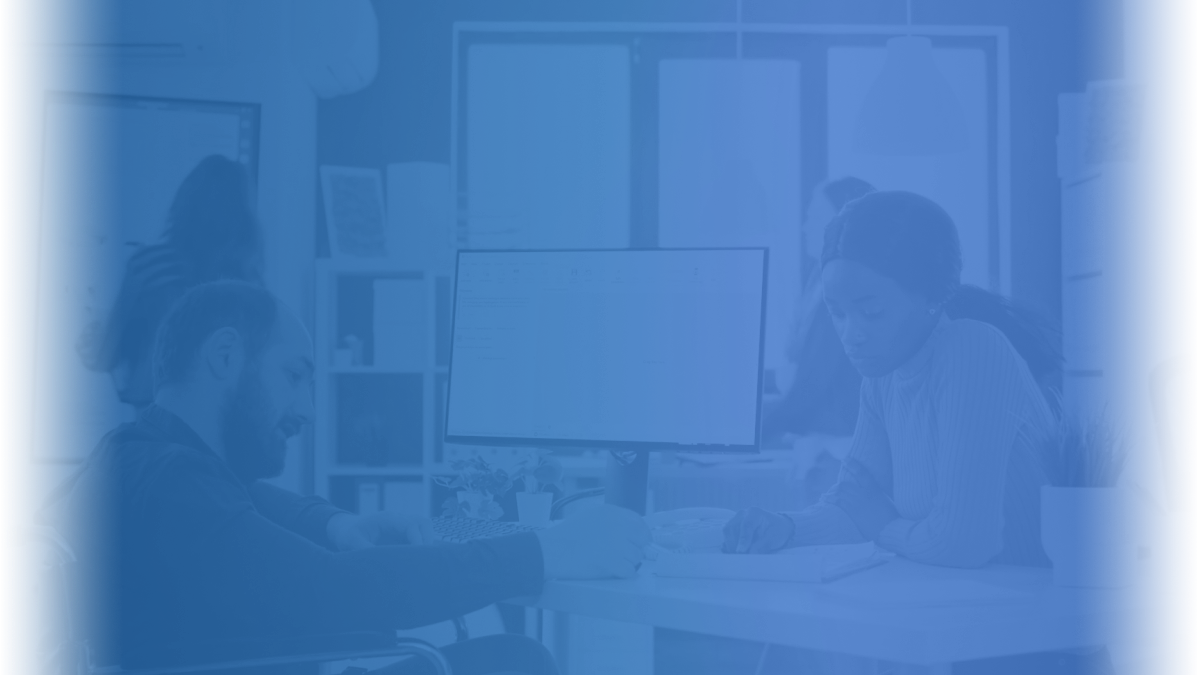 Work automation
without coding
Easy data preparation and automation for non-technical people and IT teams.
100,000+ downloads
500+ organizations
150+ built-in actions
Subscribe to our monthly newsletter
Follow us on:
Data preparation for
non-technical people
Spend up to 4x less time on data preparation by using visual workflows instead of spreadsheets.
Many people use Excel, VBA macros, or scripts for data preparation because they are not aware of better alternatives that exist in the 21st century. EasyMorph is a purpose-built application for fast and visual data transformation and automation without coding, optimized for non-technical users. With EasyMorph, you can walk away from obscure scripts and cumbersome spreadsheets, and bring your productivity to a whole new level.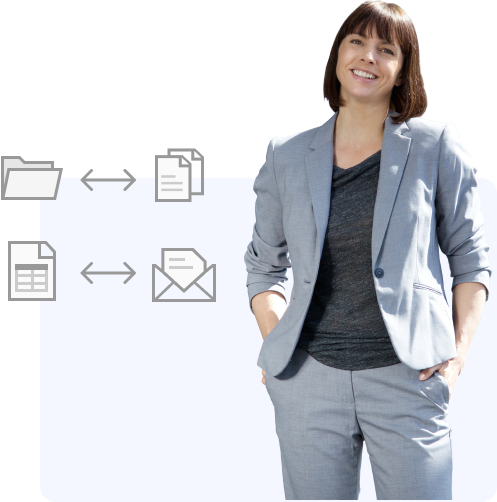 Next generation ETL tool
for enterprise IT departments
Most ETL tools stuck in the past. Try the future.
Traditional data transformation (ETL) tools have been designed for the past era. They are based on a flawed concept dictated by the lack of memory in computers of the 90s. EasyMorph is an all-purpose data automation tool powered by a ultra-fast in-memory engine. It smartly leverages the abundance of memory in modern computers to make designing ETL jobs an order of magnitude easier and much less prone to errors compared to traditional ETL systems.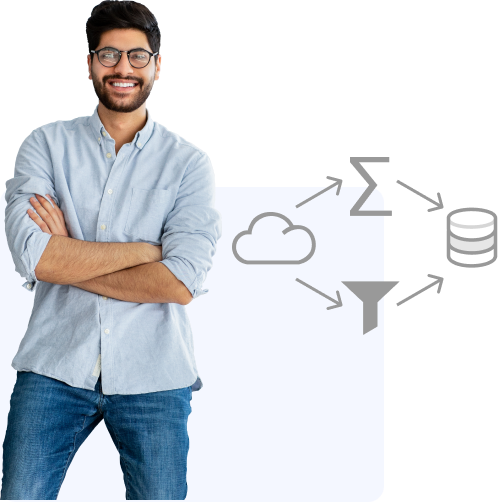 Web API integration without coding
Quickly respond to data integration challenges with a powerful API integration toolkit.
Building API integrations and endpoints can be a very expensive and time-consuming effort. EasyMorph workflows conveniently combine ETL and API capabilities and can handle a broad variety of data integration tasks.
EasyMorph can act as a web API client as well as an API server. You can query REST (web) APIs and process JSON/XML payloads. Deploy your own API endpoints. Receive and process in real time webhooks from cloud applications, websites, and cloud automation services such as Zapier or Power Automate.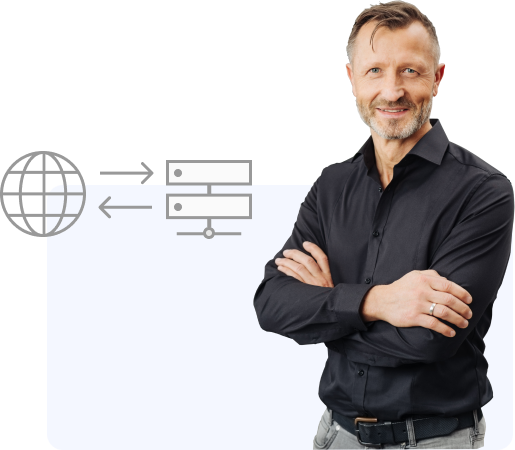 Hyperlinked Data Catalog
Stop the chaos. Organize your team's access to data, reports, and metrics as it meant to be in the 21st century.
Our Data Catalog is a single portal that your colleagues can use to find and retrieve data, reports, and metrics from internal and external applications, BI systems, databases, APIs, and files no matter where they are located. The Catalog brings everyone on the same page, saves time and money, and reduces the need in expensive data warehouses and complex, high-ceremony Business Intelligence applications.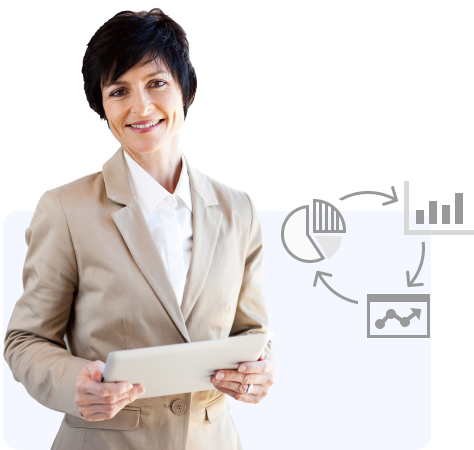 Connect to all your data and apps
Excel
Import from and export to Excel spreadsheets. Run VBA macros. Save as PDF.
Databases
Import from and export to more than 25 relational SQL databases including SQL Server, Postgres, Oracle, Redshift, Azure SQL, BigQuery.
Text files
Import from delimited (such as CSV, PSV, etc.) text files and text files with fixed width columns.
Email
Send emails and receive emails with attachments using Exchange, Gmail, or any SMTP server.
HTTP
Send HTTP requests to web (REST) APIs and process responses (e.g. with JSON or XML body).
SFTP/SCP
Upload and download files to/from SFTP servers or using SCP over SSH.
Airtable
Export, import, delete and update rows in Airtable.
Amazon S3
Upload, download, delete files and folders on Amazon S3.
Azure Blob Storage
Upload, download, delete files, create and delete folders in Azure Blob Storage.
DropBox
Upload, download, delete files, create and delete folders.
Google Analytics
Import Google Analytics data (v4 is also supported).
Google Drive
Upload, download, delete files, create and delete folders in Google Drive.
Google Search Console
Import Google Search Console data and metrics.
Google Sheets
Import from and export to Google Sheets. List sheets.
OneDrive
Upload, download, delete files, create and delete folders in OneDrive.
Pipedrive
Import deals, contacts, and organizations from Pipedrive CRM.
Power BI
Export to Power BI datasets, refresh them, trigger flows from EasyMorph.
Power Automate
Receive webhooks from Power Automate and trigger tasks in EasyMorph Server in real time.
Pushover
Send instant messages and notifications to mobile devices via Pushover.
Salesforce
Export, import, delete and update rows in Salesforce.
SharePoint files
Upload, download, delete files and folders on SharePoint (on-prem and cloud).
SharePoint lists
Export, import, delete and update rows in SharePoint lists.
Snowflake
Export, import, delete, update rows, create and delete tables in Snowflake.
Tableau
Export to Tableau extracts (Hyper or TDE), publish them on Tableau Server/Cloud/Public, trigger flows from EasyMorph.
Qlik
Export to Qlik QVDs, trigger QMC tasks and app reloads, upload to Qlik Cloud.
Zapier
Receive webhooks from Zapier and trigger tasks in EasyMorph Server in real time.
Webhooks
Receive incoming webhooks from cloud and internal applications and trigger Server tasks in real time.
No results
Please try another search.
If you have a question about data and apps integrations
please ask us
Get started with the free edition
Try getting something done with EasyMorph.

Optionally, buy a license to unlock all features.
Alternatively, book a demo.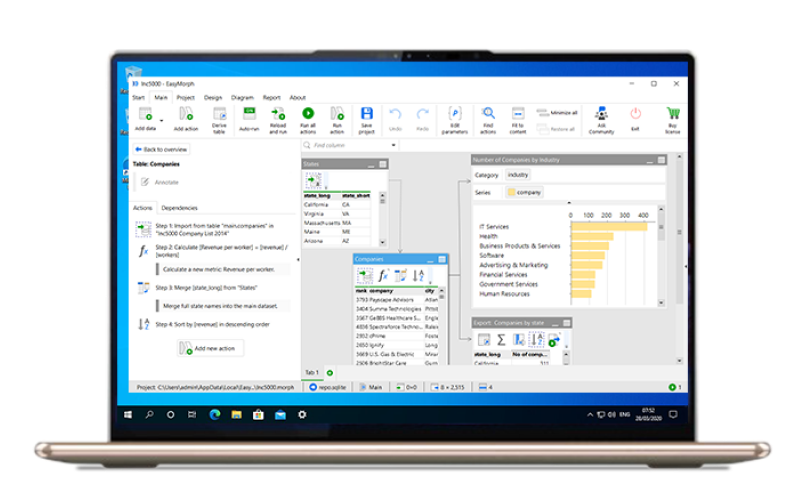 EasyMorph Server for your team
While EasyMorph Desktop is great for individual use, by adding EasyMorph Server you get robust scheduling, workgroups (spaces) for collaboration, and means for integration with other applications. It is designed for busy teams and therefore is easy to install, configure, and administer. Use cases for EasyMorph Server:
Scheduled data retrieval and transformation (ETL jobs)
Data collection and distribution (e.g. by email or via a web browser)
Real time API intergration with internal and cloud applications
Automatic rule-based alerts and notifications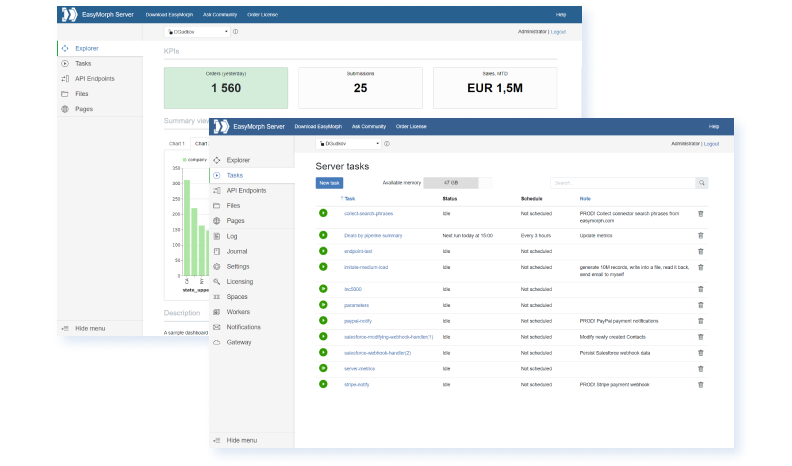 Customer spotlight

Credigy signifcantly improved data processing throughtput and freed up to 4x additional time for data analysis with EasyMorph
Casey Adams,
Senior Director of IT and Data Strategy
Testimonials
Here is what our customers say about EasyMorph. All are real people.
All testimonials are unsolicited and published with the permission of the authors.
The product is fantastic, it saves me so much time at my job it's not even funny. I tell anyone who will listen how helpful it is.
Michael S.
Lately I have been using EasyMorph for several hours a day some days doing complicated data analysis. It's by far my favorite piece of software. A true gem. You've built something really special. Lots of useful features, easy to use, and most importantly rock solid.
Joe B.
I found easymorph to be a great option for someone who is comfortable using excel in a basic sense but not comfortable creating complicated macros or using multiple formulas to clean data. Within 10 minutes I was able to figure out how to use easymorph when compiling a large amount of data from various sources.
Andrew
After more than 18 months with easymorph, I can say that I absolutely love this tool. It really helps me a lot and there are so many use cases. Really a great product and I am absolutely happy that I have "found" it and that I could convince my CIO that easymorph is the right tool for our use case. He's happy with the decision, too :). I have been working with various tools by now (formerly works at SAP with BW, later on with BW and Business Objects, then with Talend and now with easymorph and the speed of "developing" and the possibilities to transform data with easymorph are much better than anything else I have ever seen within over 20 years of my career. So: all thumbs up for this product.
Jochen M.
I have been using EM intensively for the past couple of months and I have had the opportunity to go though the full platform including advanced features. It's an amazing product. This is not surprising since it was such an awesome experience out of the box. Summing up EM, I would describe it in the following way: (i) extreme ease of use, (ii) great value, (iii) enterprise grade and feature rich, and (iv) blazing speed. Speed is the biggest factor for me. It's astonishing and the primary reason I am using EM so much. It's literally multiples faster than its much more expensive counterparts.
Rick S.
I have been following the development of this tool for a while now. I think it's great and I think it offers a lot to my profession. Many of us just can't stand the bloat and hoops that SSRS or other similar tools make you jump through.
Matt A.
We are very very happy with the usability and how easy Easymorph is. Its smart, easy and just works like a charm - this is not usual for such (ETL, BI) tools.
Dominik
Easymorph is an very impressive product. It has changed our approach to automating reports and data transfers and massively reduced reliance on excel macros.
Jon S.
EasyMorph is easy to use. Saves tons of time doing transformations. I was able to build a data-mart in a week, without easy morph it would have taken me at least 3 weeks – Brilliant!
Mervin, G. Head BI
I find your solution unbelievable, even for a non-data scientist/programmer as me.
Steven P.
So far for a data blending tool I have tested 6 options and Easymorph has actually been the closest from a simplicity and functionality point of view, when compared to the most common actions I used to do in Alteryx (non predictive data blending / cleansing). It seems to be the perfect tool from both a price and required functionality point of view in order to get the base reporting and tableau insights setup.
Ryan
I've been using EasyMorph for 2 years now, and I really appreciate all the unique features that EasyMorph delivered to the community. I always scratch a project in EasyMorph from a quick and dirty approach such as clean/transform dataset and visualize changes, once the set of transformation is finalized, it's so easy to shift it to a robust production process. The amount of time that I saved is significant. Debugging and navigating through hundreds of transformations across a couple of linked processes are intuitive, you can easily identify which transformation in which process went wrong. The data processing speed and capacity are incredible with this very light weighted tool. Most importantly, EM changed a lot since I first time using it, and I am so convinced that it's going to be only better in the future.
Eiffel Q. S.