Accuracy and precision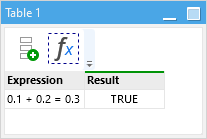 The vast majority of data transformation applications treat numeric values as 64-bit floating-point numbers that were originally intended for scientific calculations. However, floating-point numbers are prone to rounding errors in business calculations. Most of the errors remain unnoticed and end up in reports and databases. For instance, the condition 0.1 + 0.2 = 0.3 incorrectly returns FALSE in many popular data tools because they use 64-bit floats.
EasyMorph processes numbers as 128-bit fixed-point decimals instead of 64-bit floats. Fixed-point decimals have been specifically designed for business calculations. They completely avoid the type of errors caused by the floating-point arithmetics. The condition mentioned above correctly returns TRUE in EasyMorph. In addition, the double precision significantly reduces or entirely eliminates rounding and roll-up errors.