EasyMorph can run external applications and Windows shell commands either once or multiple times in a loop. Most frequently, this is used for file manipulations (copying, renaming, unzipping, etc.) or integration with 3rd party applications.
Running external program
The "Run program" action starts the specified external application with command-line arguments (if required), and waits until it finishes.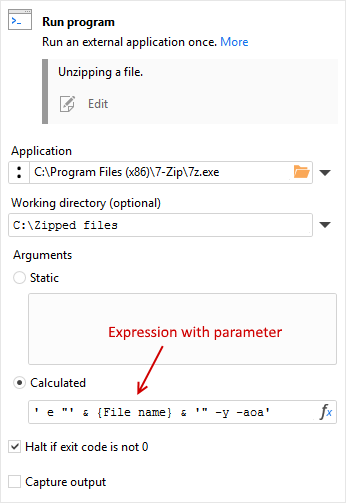 The command line arguments for the application can be specified either as a constant line of text, or using an expression. In the latter case, the expression can use project parameters (but not field names).
Hint: Wrap file names in double quotes in command line expressions, as they may contain spaces.
Executing a Windows shell command
If application is not specified (the application path is empty) then "Run program" executes the command line as a Windows shell command. The example below shows uses the "Run program" action for copying a file (show as an example, actual file copying can be done using the "File command" action described in the previous chapter).