Advanced data preparation for Tableau users
Do even more with Tableau when you complement it with EasyMorph. EasyMorph offers a broad range of tools for cleansing, transforming, and enriching data in order to prepare it for using in Tableau dashboards. More than 100 transformations help filter, sanitize, modify, parse, split, match, and merge data in files and databases in a convenient and visual way. EasyMorph is a data preparation heavy lifter, designed for users without a technical background.
EasyMorph vs Tableau Prep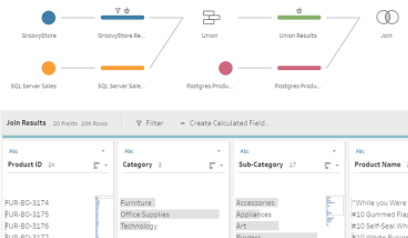 To put it simply, EasyMorph is akin to "Prep on steroids". It has an order of magnitude more available transformations than Prep, and makes extra emphasis on automation. With EasyMorph you can automate not just data preparation, but entire daily routines that require running external applications, downloading / unziping / copying files, FTP transfers, and even fetching email attachments and sending emails.
All this makes EasyMorph a very flexible and versatile tool for analysts and data scientists, significantly more capable than Prep. Note that almost all EasyMorph capabilities are available in the free edition.
Read more: A detailed comparison of EasyMorph vs Tableau Prep (PDF).
EasyMorph vs Alteryx
Sometimes, we're asked to compare EasyMorph to Alteryx. Alteryx is perceived by many Tableau customers as extremely expensive and because of that not suitable for wide adoption in their organizations limiting its use to a few power users.
If we exclude the free edition for a moment, EasyMorph is roughly 10 to 20 times less expensive than Alteryx, but is capable of all major data transformations available in Alteryx. Because EasyMorph is significantly more affordable than Alteryx more users in your orgainization can benefit from advanced seld-service data preparation. All major databases and file formats are supported in EasyMorph. Just try it.