EasyMorph for Qlik Sense
EasyMorph adds powerful automation to Qlik Sense and improves its self-service capabilities especially for non-technical users.
Action Server for Qlik Sense

EasyMorph Server serves as an action server for Qlik Sense. It gives Qlik Sense powerful automation capabilities, and enables new, previously unavailable use cases for Qlik Sense. Using EasyMorph-Action — a free Qlik Sense extension, you can add various actions to Qlik Sense dashboards. For instance:
Submit currently selected customers to a loyalty program in a marketing CRM system.
Reload a Qlik Sense application with historical data for a period specified by the user.
Export current selection into a file on a shared drive.
Send to the selected customer a personalized email with attached customized data extract.
Submit sales forecasts by sales representatives and resellers.
Download a file from a website and dynamically load its content into a Qlik Sense app.
Under the hood, the actions can run external applications, batch files and PowerShell scripts. They can trigger stored procedures, copy/unzip/delete files, send emails and SMS messages, interoperate with other applications through REST APIs and command line clients.
The actions are programmable and real-time. An action can report its status back to the user (e.g. "Copying file 3 out of 10..."), signal about errors, and provide error descriptions.
The screenshot below shows two EasyMorph-Action extensions in a Qlik Sense app. One action loads data for pre-selected states from a database into Qlik Sense. Loading pre-filtered data allows faster reload times and reduces memory footprint. The other sends an email with top-3 cities to a designated recepient. The message text is dynamically generated based on current selections (you can view it on the left from the button).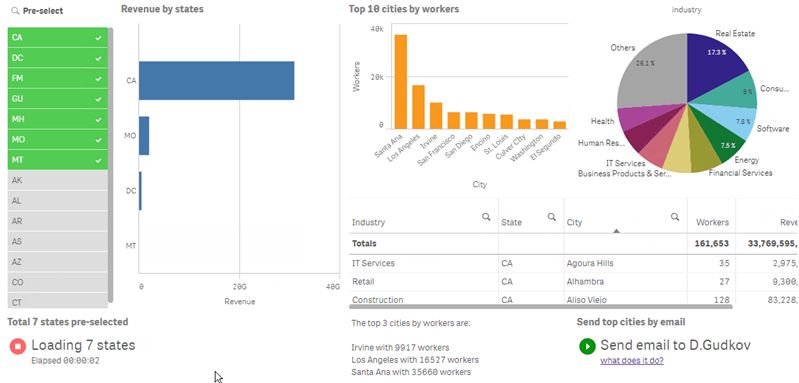 For more details read "User-initiated Programmable Actions for Qlik Sense"
Self-service data transformation for Qlik Sense
Writing load scripts can be challenging for Qlik Sense users without a technical background. For such users, EasyMorph offers a visual, drag-and-drop authoring instead of scripting. Design complex data transformation processes, create QVD files, then use the "Qlik Sense Command" action to trigger QMC tasks and reload Qlik Sense applications right from EasyMorph projects. In case of reload errors, "Qlik Sense Command" intelligently parses Qlik Sense reload logs and displays reload errors right in EasyMorph.
Besides visial ETL design, the self-service capabilities that business users of Qlik Sense can get with EasyMorph include:
A Reload button right in Qlik Sense dashboards to reload apps when it's required.
Parameterized reloads with parameters calculated as Qlik Sense expressions.
Auto-generated documentation of transformation logic in plain English, accessible right from Qlik Sense dashboards.
File upload/download to/from a Qlik Sense server via a web browser.
Real-time status updates about reloading process (e.g. "Loading file 3 out of 10").