Powerful self-service data transformation
Do even more with Tableau when you complement it with EasyMorph. EasyMorph offers a broad range of tools for cleansing, transforming, and enriching data in order to prepare it for using in Tableau dashboards. More than 80 transformations help filter, sanitize, modify, parse, split, match, and merge data in files and databases in a convenient and visual way. EasyMorph is a data preparation heavy lifter, designed for users without a technical background.
There are 2 common scenarios how to use EasyMorph with Tableau:
Blending your data with that stored in data warehouse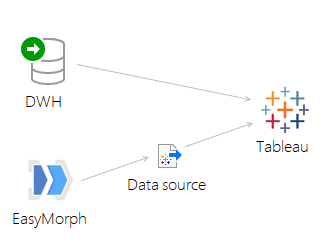 If your organization uses Tableau on top of an enterprise data warehouse, then with EasyMorph you can prepare and publish your own data sources to Tableau Server. Blend your data with that coming from the data warehouse, in Tableau dashboards. Adding new types of data directly into a data warehouse is usually a lengthy and complicated process that can take months. With EasyMorph you can add your data to Tableau dashboards in hours, without altering existing ETL processes.
Setting up a data transformation hub for department or small/medium business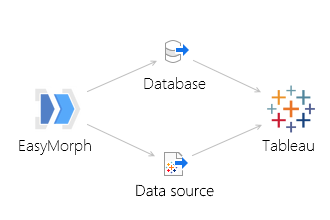 Use EasyMorph as the main data transformation hub for your department or company. Automate, parameterize, and schedule your data transformation tasks. Publish data extracts directly to Tableau Server, or export data into a local database and access is from Tableau.