Data transformation for Tableau
EasyMorph greatly extends the built-in data transformation capabilities of Tableau. It enables designing complex parameterized multi-step transformation processes with data quality guards and data profiling. Similarly to Tableau, EasyMorph is highly visual, optimized for users without a technical background, and requires little or no training. More than 50% of EasyMorph customers use it for Tableau.
A few examples of what you can do with EasyMorph:
Merge data in different modes: lookup, join, interval matching (perfect for slowly changing dimensions), and fuzzy matching (for words with typos).
Apply rules to control data quality; abort transformation if quality checks not passed.
Extract data from complex, possibly inconsistent spreadsheets with various data quality issues. Unlike most ETL tools, EasyMorph allows mixing numbers and text in the same column which makes it a great tool for parsing spreadsheets.
Pivot / unpivot tables; apply powerful non-relational transformations (e.g. Fill Down, Shift Column).
Arrange advanced workflows with loops (including nested loops), if-then-else branching, and subroutines.
View auto-generated human readable description of data transformation logic behind a dashboard.
Schedule refreshes with different parameters (requires EasyMorph Server).
There are three ways how data can be exported from EasyMorph to Tableau: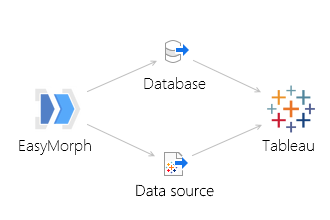 Create a TDE (Tableau Data Extract) file, or a CSV file (if you're using Tableau Public).
Publish a TDE to a Tableau Server (incremental refreshes also supported).
Export data into a relational database (data mart), then query it with Tableau. Incremental export is also supported.
See example: Integration with Tableau.
Read tutorial: Export into .tde files, Export into databases.
EasyMorph is a Tableau Technology Partner since 2015.

Try EasyMorph today. No registration required.
Download